Mountain Uniforms was featured in the Police Chief Magazine.
---
"After two hours of freezing rain the Snow Snake Mountain Ski Patrol convinced operations to close an hour early. 
Yes, that is a sheet of ice on our outerwear. 
My Mountain Uniform Patrol Jacket kept me dry during our final hill sweep. "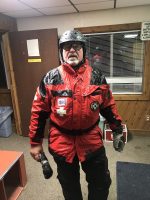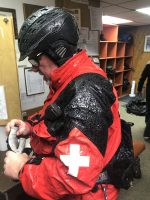 Mark Kuehl
Snow Snake Mountain Ski Patrol
Harrison, Michigan
——————————————————————————
"The crews look great. I have never seen the Patrol or the Lift Crew look so sharp. Thanks so much for making this happen."
Tani S. Miller
Timberline Ski Area
Mountain Department Administration
————————————————————–
"Our uniforms arrived yesterday and they look great! Thanks very much for your help. It looks like we're going to open the day after Thanksgiving.  Thanks again!"
Jennifer
China Peak
————————————————————–
"On behalf of several retirees of the Prince William County (Va) Dept. of Fire and Rescue: We LOVE the MU jackets that our department started issuing a few years ago.
As retirees, we are allowed to keep our issued uniforms and equipment, which is a nice gesture, but at the same time it's a bit 'wrong' to be sporting about in a high profile uniform component when not actually on the job anymore.
The jackets are examples of very fine workmanship and quality, and are typically supplied with a small patch/swatch of matching fabric with a velcro strip, presumably to serve the purpose of concealing the lettering on the back of law enforcement 'raid jackets.' This is an ideal way to cover a portion of the reflective lettering on the Prince William County spec jacket…"
Gary
————————————————————–
"Received the jacket today and am very pleased. It's almost a copy of my Mtn Host jacket that I wear when working at Schweitzer Mtn in the winter. Like I mentioned to you, my MU jacket has kept me warm and dry in conditions from a pounding spring rain to a 50 MPH sustained blizzard. I appreciate the emails and time you spent making sure I got the jacket I wanted. Thanks again."
Ron
NSP Mountain Host
———————————————————————
"We have received the coats, thank you! They are really awesome coats."
Chena Goldstream
Fire-Rescue, AK
————————————————————–
"My additional coats and vests (fill-ins after our first order a couple years ago) came today. They look great, thank you."
Paul Crenshaw
Learning Center Manager
Massanutten Resort
————————————————————–
"Thanks so much… FYI, I have a patrol jacket from Mountain Uniforms which has been a great piece of equipment for many years even in the torrential down pours of the PNW. Am looking forward to using the new jacket as well…"
Rusty
——————————————————————————
"I really appreciate your help. It really is the nicest jacket I have ever seen. The workmanship is superior to anything else I have EVER owned and I have bought a lot of outdoor type clothing. The red is actually a true deep red. Really great fabric and the zipper is strong and easy to zip up. You can tell it's a one in a lifetime kind of jacket."
Cathie
——————————————————————————
"Got the gorgeous new blue jacket. It's totally perfect!! I am wearing it out training tomorrow and its COLD here….in the 20s with frost and a little snow. I am excited and glad to have it and really appreciate your help. I know it will be useful to me for many years to come."
Cathie
——————————————————————————
"I love it. I wore it today in very cold weather with a fleece underneath. The hood fits perfect and I am picky about my hoods. I like them but I cannot stand it if it comes down too far on my head. This one is great and the adjustments with the velcro and the pulls allow you to do a custom fit. I also like the radio hook on the shoulder. Perfect and secure for the frs. I got a lot of compliments from some training partners from the Walla Walla WA SAR K9 team."
——————————————————————————
"Thank you very much. It's service like this is why I am a customer and will continue to be! Again thank you very much."
Dan
————————————————————–
"I have just received my jacket by your firm, it is much better than our expectations, I want to thank you for the outstanding quality and courteous customer service. Thank you again, with regards"
Kagan
————————————————————–
"For what it's worth, I received the pants yesterday (an early FedEx arrival), and couldn't be happier. And whether it's good or bad, I put them to work right away (ice/water/slush search today). All my guys and even the law enforcement on site commented on how functional they were. Think they were jealous about the kneepads, actually. Sizing was perfect, could actually stand to gain a few pounds to fill em out better!
Thanks again for everything, and I'll be back for more!"
Mike
LCSAR Communications Team Lead/Technical Rescue
————————————————————————
"Thank you. My patrol jacket arrived today, a day early. It exceeds my expectations. You do excellent work, which I appreciate."
Marc