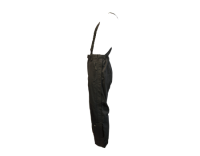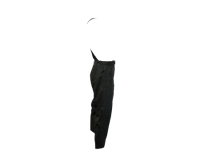 Functions, Features, Fabrics – #007 Full-Zip Pant with zip-off Suspenders
Fabric & Construction: Standard waterproof breathable membrane laminate, durable nylon. Abrasion-resistant fabrics on butt and knees is standard. Additional waterproof lining at butt. Removable neoprene-type pads (often used in motocross industry) inside lining at knees. All seams double-stitched and taped (seam sealed).
Functions: A Full-side-zip pant – A functional, utility pant that is comfortable with lots of features include zip-off suspenders with high nylon back, internal boot cuffs, and lined with 210 for easy movement. Front Zip pockets, Front zip fly with snap and clip, and belt loops. Comes standard as a shell (available at the MU Online Store). Insulation options of 40-200grams available with larger, advance group orders. Other standard features include 2-way, side zips from waist down and bottom up.
Lining: 210T for warmth and movement is standard. Group orders of 50 or more can order insulation (40-200 gram), with advance order in spring, for fall / winter delivery.
Sizes: Available in sizes xs – 4XL
Colors: Standard in Black. Check the MU Online Store for availability of heavy duty pants, no insulation.) Choose your own color with advance orders of 50 or more – call for details.
Ordering: Get this item at the MU Online Store now, or call to reserve larger quantities in advance.