Specializing in Custom-Built, Cold-Weather Uniform Jackets, Pants and Matching Combinations for Groups
——Clear Float———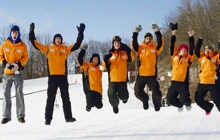 Resort Programs
Ski Patrol
——Clear Float———
SKI RESORT UNIFORMS – Visit us at the following NSAA Shows: Squaw Valley, Jan 14-15, 2020 and Killington, Feb 4-5, 2020!

Mountain Uniforms is the #1 supplier of uniforms to the Ski Industry. Our waterproof-breathable jackets, mid-layers, and pants, etc, are in more mountain resorts than any other name brand. View examples of jacket systems for Ski and Snowsports Instructors, Lift Attendants, Operations, Ski Patrol, Snowmakers, etc., and indoor employees.
INDIVIDUALS OR SMALL GROUPS
For standard items we often have in stock, visit our online store for immediate purchase. With advance orders, some standard items are customizable for small groups. If you plan to order "stock" items in quantity, please order in the spring for winter delivery to guarantee availability.
Law Enforcement
Fire-Rescue
——Clear Float———
PUBLIC SAFETY UNIFORMS – Visit our Booth #7203 at SHOT Show in Las Vegas, Nevada January 21st-24th, 2020 (across from New Product Center)!

We are the preferred cold-weather uniform provider for Police Departments, State Highway Patrols, Search and Rescue teams, Security personnel, Fire-EMS Departments, Ambulance and Care Flight personnel, and other Public Safety and Law Enforcement agencies in some of the coldest areas in the world. Get ideas by reviewing examples of custom jackets, coats and pants that are specially designed for the job and climate.
GROUP ORDERS
If you need technical, outdoor uniforms for 50-10,000 we will assist you in designing your own or customizing existing styles to suit your needs according to climate, job, and identity. Advance orders are required. Please call for the current production schedule.